Winter Getaway - Hard Rock Hotel Cancun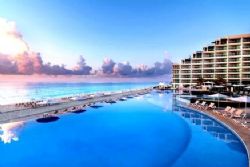 Winter Getaway

Hard Rock Hotel Cancun

Non-stop activity is the theme here, beginning with stretching by the pool in the morning, the brand new Little Big Club ™ an interactive kids area and entertainment after dark.
Water vistas
Overlooking the turquoise Caribbean Sea, this high-energy, all-inclusive resort
...

The Classic Difference
Classic Vacations is the #1 rated luxury vacation wholesaler for Travel Advisors. We have one goal: to do whatever it takes to ensure that you are not just satisfied with their vacation, but completely delighted. We are dedicated to helping you create the best possible vacation experiences. You can count on us to deliver world-class accommodations, exceptional privileges, and unparalleled service. That is the Classic® difference. It is the difference between a
...